EDITED BY HEIDI HOMBACHER
Right, deep breath…I do this with a really heavy heart—I mean, Iron Man dying heavy…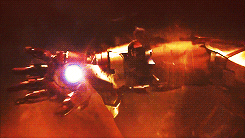 But a lot worse—Toby's real, Ironman was a product of Marvel Studios—I'm sorry but he would've wanted me to keep my sardonic, silly and sassy sense of humor. That's the kind of dog he was and actually how I am.
I can't explain how precious his life was, and how much I'll miss him. I'm crying so much right now that I feel I could short circuit this laptop and electrocute myself (which he wouldn't want me to do). I'll do a separate piece about how grief is a bitch, even to a person without mental illness but with, damn, some don't even survive.
However as someone who is anti-suicide and despite feeling like utter shit for the past two months, this writer has now pulled herself together to write this obituary. The fact is I really can't describe how wonderful, unique and amazing my fur baby Toby Wan Kenobi was, and I shouldn't have to. Someone once said a picture is worth a thousand words, his IG tribute site
@
heavens_to_toby_wan_kenobi
is worth millions and will be connected to
@betsysbelljar
forever.